Additional Support
Helpline
For any help or guidance regarding COVID-19 or Distance Learning please contact us via the following, we will aim to respond to you as soon as possible, within 5 working days: helpline@beaconhillacademy.org.uk
Mental Health & Wellbeing
Click or tap each title to expand
Keep Fit!
While the Academy is closed it is important to make sure that you get daily exercise to help with both your physical and mental health. When taking exercise it is important to make sure you are following all government guidelines and keeping your distance from anyone who is not in your household. Below you will find some links to help you keep fit while staying in your home or own garden. This is in addition to the weekly P.E. lessons on Friday Afternoon (see your Distance Learning timetable) from Joe Wicks (The Body Coach) on YouTube and also a month worth of different daily exercises that you can complete. Please remember to keep safe while doing any form of exercise!
Kooth.com - Online support for young people
We would like to remind you of the availability of our online service to support the wellbeing and resilience of your students.
Kooth is a web-based confidential support service available to young people. Kooth provides a safe and secure means of accessing mental health and wellbeing support designed specifically for young people.
Kooth offers young people the opportunity to have a text-based conversation with a qualified counsellor. Counsellors are available from 12noon to 10pm on weekdays and 6pm to 10 pm at weekends, every day of the year on a drop-in basis. Young people can access regular booked online counselling sessions as needed. Outside counselling hours' young people can message our team and get support by the next day.
When students register with Kooth they will have support available to them now and in the future. Support can be gained not only through counselling but articles, forums and discussion boards. All content is age-appropriate, clinically approved and fully moderated.
To find out more visit www.Kooth.com where young people can register and others can find out more about the service.
You can also view a short video about the service at https://vimeo.com/318731977/a9f32c87de.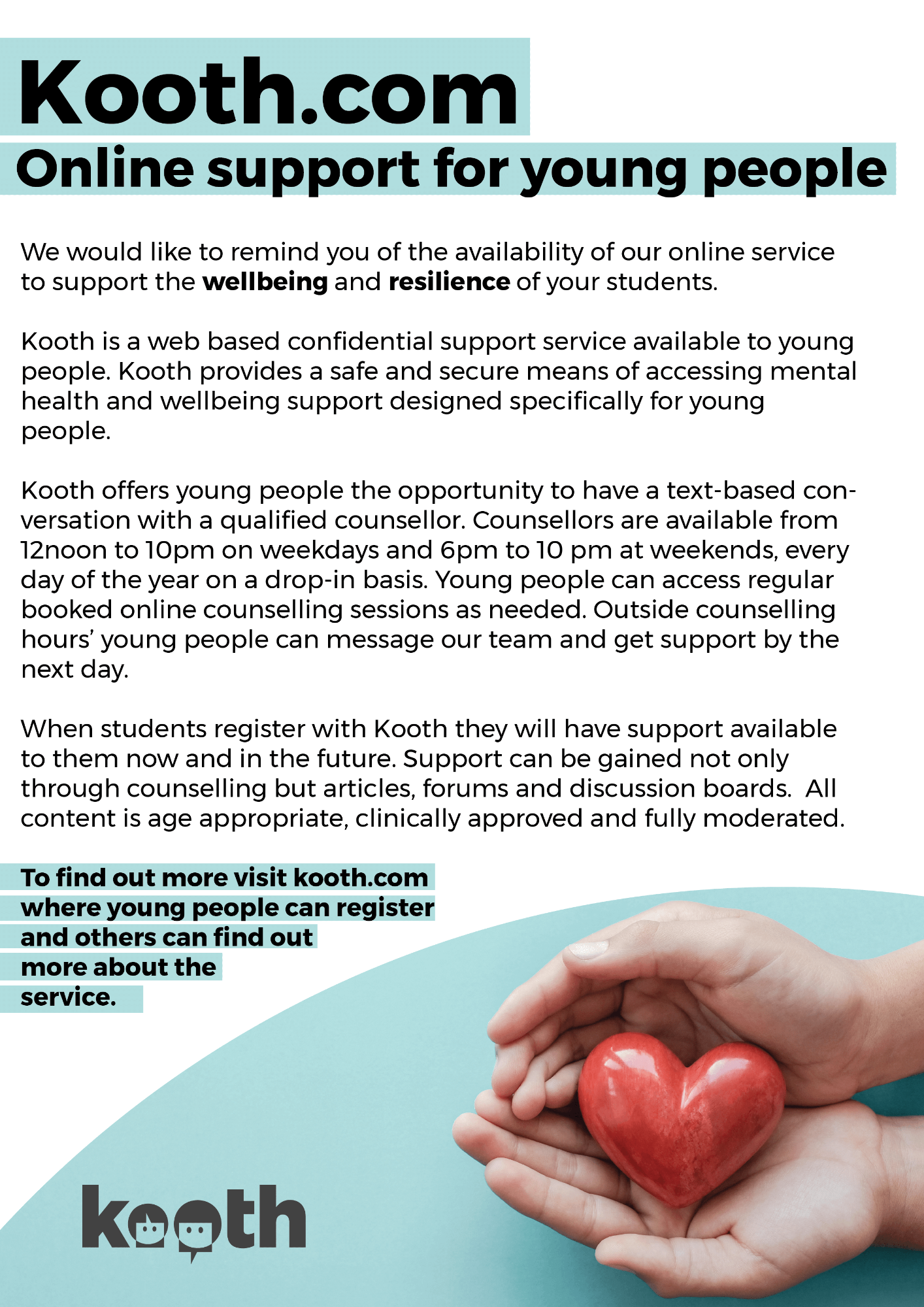 ​
Mind to be Kind
Regular Academy Presentations:
We All Have Mental Health
We are aware that for the majority of learners, parents and carers, the thought of an unknown amount of time at home without physical contact with friends, loved ones and a "normal" routine is scary. It is important at times like these, learners, parents and staff take time to think about their own mental health. To help through these difficult times we have put together some ideas to help you maintain a positive mindset. Finally please do remember we are in this together and we can get through whatever the coming weeks and months throws at us.
How can the Academy help?
Keep in regular contact with your teachers, if possible at your regular lesson times.
Remember you are not alone. Your teachers are still available to support you, both academically and pastorally.
Ask for help when needed; independent learning is a new skill for some. Don't be afraid to say if something seems confusing or you need extra support.
Try to keep on top of your workload to avoid feeling overwhelmed.
Take the opportunity to also follow your passions; if a particular topic interests you, research it. You never know where it might lead!
Be sure to keep your teachers updated so we can support you in this.
Wellbeing
Work/life balance
Healthy eating
Regular sleep patterns
Interactions with family and friends
Communication with others
Other interests
Physical activity
Signs and symptoms of a drop in mental health
Change in sleep patterns
Becoming withdrawn
Friendship groups: can become less or more social than usual
Change in eating patterns
Change in appearance
Personality shifts
Problems with concentration
Wellbeing – How can Parents/Carers help?
Model and promote Healthy eating
No issue is too small!
Monitoring social media access
Interactions/ listening
Encourage exercise (and join in too!)
Create productive habits – work routines
Be aware of important academic dates
Encourage downtime – make sure your child takes time to relax
Build in structure / Make your time meaningful
Try to maintain a routine similar to your normal day/ week (e.g, weekday and weekend routines)
Make time for what you love
Plan your time
Keep up to date with study so you don't feel overwhelmed
Make time to be creative – art, music, crafts etc.
Have allocated time for work and for rest
Maintain habits – dress in the daytime, etc
All those things you never seem to have time for – list them!
Take up a new skill or hobby
Break your day/ week into chunks
Build in social contact; distance physically but don't become socially isolated
Make time to help others where possible, either virtually or, where safe to do so, in person; collect some shopping for a neighbour.
24 actions to keep you busy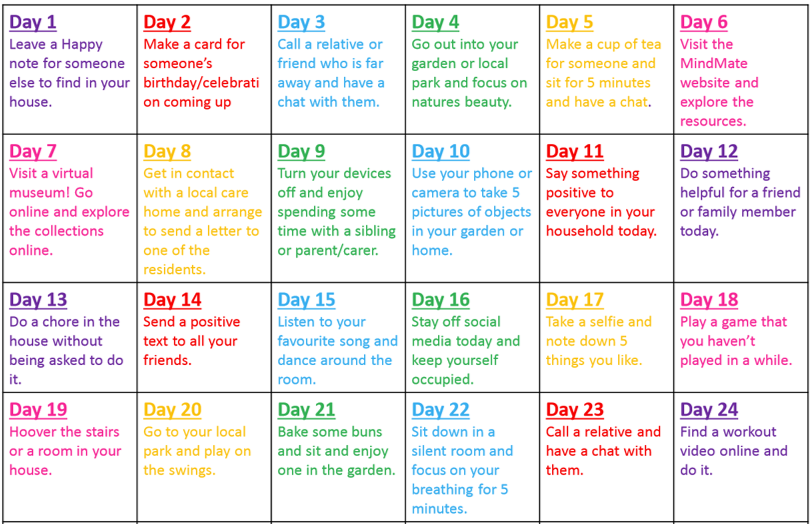 Remember the Basics
Get some fresh air*
Go outside, preferably in the mornings/ during daylight*
Exercise at regular points throughout the day.*
Keep hydrated
Try to maintain regular meal-times
Eat a balanced diet
*If it is safe to do so and following all government advice regarding social distancing.
Keep Moving
Your daily activity will be reduced if you are at home, so it is important to build movement into your routine
Your usual exercise method may no longer be available
Use this opportunity to try something different
Youtube and other apps have tutorials and guided workouts
Try HIIT (High Intensity Interval Training), or more gentle exercises such as Yoga or Pilates
Go outside into the garden and play a game*
Take care not to injure yourself – work within your usual fitness levels and take it steady
*If it is safe to do so and following all government advice regarding social distancing.
Mandalas / mindful colouring / Music / Talking - Benefits
Creative activities encourage flow
Slows breathing and heart rate
Allows self-expression
Time together
Can encourage "accidental" conversations
Provides a mental pause
Can reduce distractions
Sets a mood for concentration or relaxation
Reduces anxiety
Can build routines
Improves relationships Identifies potential problems early
Builds self-esteem
Generates problem-solving ideas together
Journaling prompts – some ideas
We are living through an important event in history. Take some time to write down what is happening.
The main thought in my head today was…
Right now I feel challenged by…
I feel supported when…
I am grateful for…
One thing I could do to help myself today is…
What I want to say to my anxious thoughts…
Write your anxious thoughts that include words like "never," "always," "everyone," and "no one." Circle those you can prove are 100% true
MIND (Mental Health Support)
You might be worried about coronavirus (COVID-19) and how it could affect your life. This may include having to stay at home and avoid other people.
This might feel difficult or stressful. But there are lots of things you can try that could help your wellbeing.
The mental health charity, MIND, have some great information to help with keeping your Mental Health in top form.
Learner Wellbeing PowerPoint 31/03/20
Please use the button below to access a Learner Wellbeing presentation
Local Authority
Fun Activities
Please note all of the above are subject to availability from the source.